Get To Know Izzy The Chow And We The Dogs
To sustain this free service, we receive affiliate commissions via some of our links. This doesn't affect rankings. Our review process.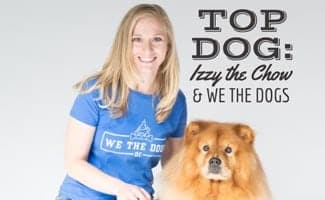 Izzy isn't just any adorable chow. She's a rescue pup and Secretary of the U.S. Department of Fluff on a mission to help other pups.
Izzy's human mom, Amber, was one of the co-founders of We The Dogs, Inc., a non-profit that aims to connect local dog owners and advocates with animal rescue organizations.
Formed in 2017 by seven dog moms who connected via Instagram accounts for their pups, We The Dogs DC has already raised tens of thousands of dollars for various dog shelters in the DC area. Their creative fundraising efforts include a Bipawtisan March and "Dogs of the District" photo book. Also, their website and Instagram account maps out and raises awareness for dog-friendly spots around the nation's capital.
We got the chance to meet Izzy and Amber and are thrilled to feature this ambitious duo in our exclusive interview.
Izzy The Chow's Interview:
How did you and your human meet?
I didn't meet my forever family until I was 6 years old. They found me at a local animal shelter, and I was covered in burrs and matted hair. It's hard to find homes for senior dogs, and even though I'd been in the shelter for months, no one had applied to adopt me yet.
But my forever family fell in love with me when they saw my picture on the shelter's website and took me home! My dog dad was specifically looking for a chow chow, since my mom had a chow mix in her family while she was growing up.
How'd you get your name?
Since I was older when I was rescued, my family kept the name I had my whole life: Izzy (or Isabella, but only when I'm in big, big trouble). I'm also known as the Secretary of the U.S. Department of Fluff, since I'm a giant floof ball living the big city life in Washington DC!
What do you love about being a DC dog?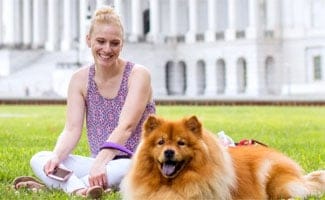 DC is such a fast-paced city and is so hyper-focused on politics both here and all over the world. Being a dog in DC means being able to participate in so many important events and activities in a city that impacts so many others. DC has also really taken the lead on what it means to be "dog-friendly." It isn't uncommon at all to find places that allow dogs, and we want to encourage that in cities all over the country!
Amber's Interview
Where did you get the idea for Bipawtisan March?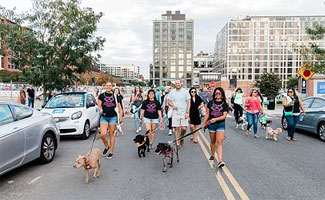 The Bipawtisan March actually started prior to the creation of We the Dogs, Inc. When Izzy was first adopted, we kept taking photos of her (because she's adorable!), and we created an Instagram account so we could share the photos with family and family.
We hadn't really used Instagram before Izzy and were shocked at how quickly her account took off. Within a year, Izzy was being asked to do all kinds of sponsored posts for companies that offer pet products, food, treats, and even dog-friendly travel.
We began to really focus on using Izzy's account to share her rescue story and the message of how important it is to adopt rescue dogs. We also started to try to think of ways to leverage the types of offers we were getting into opportunities that could benefit rescues instead, which led to the creation of the Bipawtisan March in January 2017. At that time, DC and the country as a whole was really divided politically, and I kept thinking about dogs, and how much they bring people together.
I posted something on Izzy's Instagram, asking if anyone else in the DC area would be interested in planning an event to bring the community together. I was surprised by the level of response and ended up forming a team of seven women to plan the Bipawtisan March. None of us had done anything like it before, and we learned so much from the experience. To date, we've had three Bipawtisan Marches, and have raised over $32,000 for animal rescue organizations just through that annual event.
Tell us about We The Dogs, Inc.
Following the success of the first Bipawtisan March, we were just blown away by the positive community response the event had received. We decided to form a nonprofit to host regular fundraisers to support local animal rescue organizations. I'm lucky to be a lawyer full-time, so I was able to create the 501c3 organization, and We the Dogs DC was officially launched in August 2017.
Our team is led by five of the women who founded the organization. We work solely on a volunteer basis, and each of us has a full-time job that is not connected to the organization. We do this because we all genuinely care about rescue animal organizations, and we have a talent for thinking of unique ways to bring the community together to benefit the local organizations that need it most.
How do the user-generated Instagram accounts work?
In addition to our fundraising efforts, one of the unique things about our organization is that we created community Instagram accounts to build and strengthen a network of local pet owners and to highlight dog-friendly locations and activities in our community.
Currently, we have accounts in two cities: Washington DC (@wethedogsdc) and New York City (@wethedogsnyc). Every day, a new person and their dog are assigned to "hold the handle" and take control of the Instagram account so they can share photos and videos featuring their pup's favorites places and activities.
We currently have an 8-month waiting list of people who have signed up to "hold the handle" in Washington DC, and a 2-month waiting list in New York City. We're planning on expanding to other cities nationwide starting January 1, 2020, based on the interest of the communities in each city.
Individuals may sign up for takeovers or suggest new cities using the form on our website: www.holdthehandle.com
How does the Two Paws Up map work?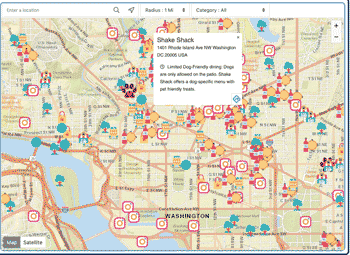 When posting on our community Instagram accounts, individuals are asked to add the geotag location of any dog-friendly places in their area. This information is a great resource for Two Paws Up, which is a searchable map that we built to highlight dog-friendly locations (view at www.wethedogsdc.org/twopawsup).
The map can be filtered by categories, which include dog parks, hotels, restaurants, wineries, and Instagram photo hotspots, among others. The map contains over 1,000 locations that have been recommended by the community or featured on our community Instagram accounts. Currently, the map is focused on the Washington DC area, but in 2020, we will be launching a customized version that includes locations nationwide.
Two Paws Up also generates donations for animal rescue organizations through business sponsorships.
How much money have you raised?
To date, we've raised over $50,000 to benefit rescue organizations in the DC and Virginia area. We try to select a new organization to receive donations for each event, and in some cases, allow the public to select the organizations if it's a larger fundraising project. For example, in 2018, the Bipawtisan March benefitted 32 different organizations in the DC area, and each one was nominated by event participants.
Where did you get inspiration (and dogs) for the book?
The book was inspired by all of the incredible photos on our Instagram! Getting dogs to participate wasn't difficult at all. In fact, the hardest part was narrowing down the photos that would be included. We had over 1,000 photos submitted and only had space for approximately 200 photos. So narrowing them down was incredibly difficult.
Buy the book: Amazon
Which pet products do you love?
We LOVE Chewy and Bark! Both companies have done so much to help We the Dogs, Inc. benefit rescue organizations.
Izzy also is a big fan of any toys that are puzzles/ that we can hide treats in. Other than that, she's pretty uninterested.
She is a huge fan of playing "treat hockey," a game we made up that involves passing a treat back and forth for Izzy to steal. Spoiler alert: she ALWAYS wins the treat.
What tips do you have for starting your own non-profit organization?
Specifically for dogs? The biggest thing I'd note is that you need to get ready to work and learn things you've never learned before. As I mentioned, I also have a full-time job as an attorney, so I do everything for We the Dogs, Inc. in my free time. It takes a lot more work than you'd expect, and there are a lot of financial and legal requirements involved to ensure compliance with 501c3 laws.
But if you're truly passionate about something, it really won't feel like work. It can be something that really changes your life and those around you. There's no shortage of new ways out there to work with the community to benefit dogs, and starting a non-profit is such an incredible way to build something that can have a far greater impact.
What's next for We The Dogs, Inc.?
Next year, my goal is to focus on growth: I want We the Dogs, Inc. to expand to cities with other like-minded leaders that want to build communities like we have to benefit rescue organizations in their area. The bonus will be that I've already done the work to build the 501c3; we just need individuals to take the lead on forming teams for their cities!
Anything else you'd like to add?
If you're interested in helping to form a new We the Dogs, Inc. team, we'd love to have you! Feel free to email us at info@wethedogsdc.org.
What inspires you about this story?