The Honest Kitchen Dog Food Reviews & Personal Experience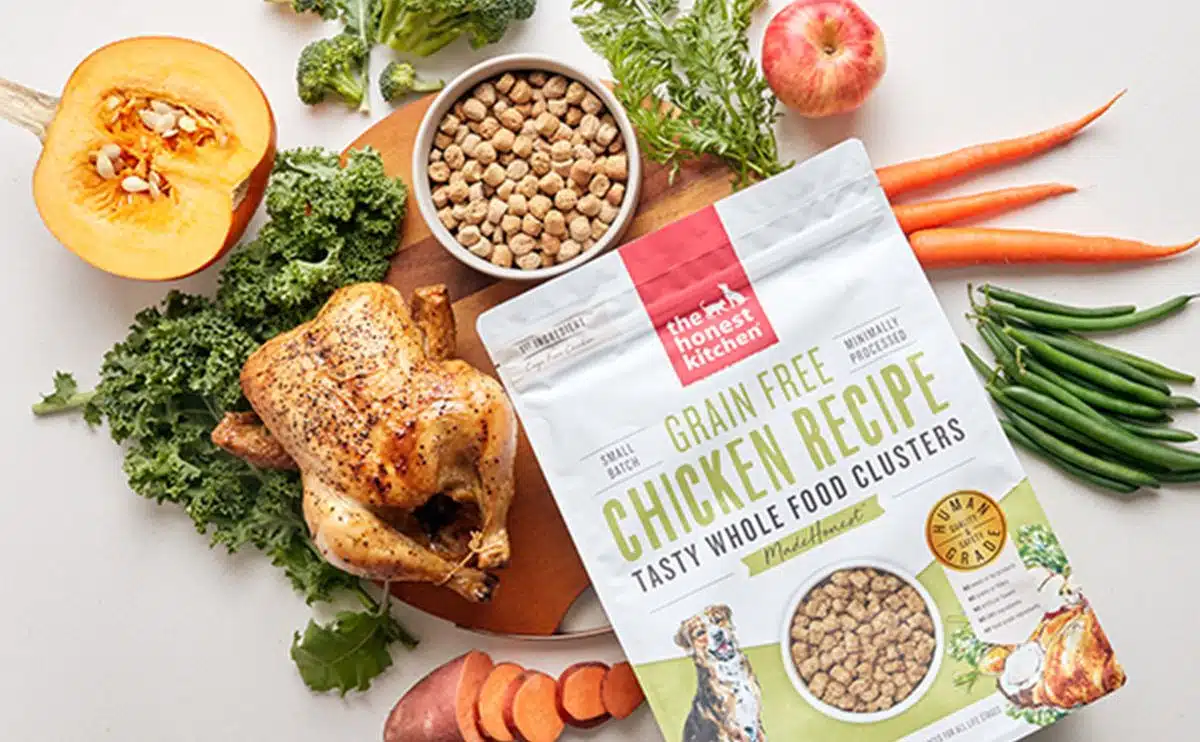 The Honest Kitchen was the first brand to develop and set the bar for human-grade pet food. Nearly 20 years later, this company has some stiff competition in what's become a noteworthy niche in the premium pet food market. With a major commitment to ingredient quality and food safety, The Honest Kitchen is still among the best human-grade dog food you can find, particularly for its comparatively affordable shelf-stable options.
But are their dog food formulas and other products the right fit for your pup's specific dietary needs? We've done extensive research into The Honest Kitchen and other top human-grade dog food brands to give you all the information you need to make an informed decision for your furry friend.
Visit The Honest Kitchen's Website
The Honest Kitchen Review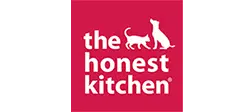 Product Name: The Honest Kitchen
Product Description: The Honest Kitchen offers all-natural, human-grade dog and cat food, food toppers, supplements, and treats.
Summary
The Honest Kitchen offers the widest variety of human-grade pet food products on the market for almost any dietary need. It has an excellent reputation for using high-quality ingredients and impeccable food safety practices. 
Our team determines the overall rating based on several factors, including meal and treat variety, nutritional value, customization options, pricing, customer service and reputation, customer reviews, and more.
Pros
Wide variety of dog food, toppers, and treats
All food products are human-grade and non-GMO
Ethically and sustainably sourced ingredients
No fillers, meat by-products, or artificial ingredients
Save 5% by signing up for auto-shipping
90-day money-back guarantee
Made in the USA
Cons
On the pricey side
Very limited puppy-specific formulas (but several for all life stages)
Adult formulas may not be ideal for highly active dogs who require more protein content
Key Features
Website has a handy quiz to help you figure out which products best suit your dog's specific nutritional needs (based on age range, breed size, energy level, ingredient sensitivities, and preferences of food type, protein, and grain)
Ability to choose your delivery frequency every 2, 3, 4, 6, 8, 10, or 12 weeks
Rewards program: you can earn points from purchases and redeem them for future discounts
The pioneering company to produce human-grade pet food (founded in 2002)
Certified B Corporation: a designation granted by non-profit B Lab to companies that uphold the highest standards for social and environmental performance, public transparency, and legal accountability
All pet food meets the guidelines of the Association of American Feed Control Officials (AAFCO) for a complete and balanced diet
Made with finely ground whole-food ingredients for easier digestion
84% of all the ingredients they use are sourced in the U.S. (none from China)
Ingredients sourced locally as much as possible to reduce their transit carbon footprint
Over 60% of packaging is made from renewable materials and fully recyclable
Provides discounts for non-profit animal rescues
Ingredient Analysis
The heart and soul of The Honest Kitchen is its commitment to using only the highest-quality ingredients. From careful sourcing to extremely strict safety standards, you can rest assured that your furry friend's diet is as good as it gets within the commercial pet food industry.
All of their food products are human-grade, which means all ingredients are fit for human consumption and their food is made in a facility that's licensed for human food production. Some ingredient highlights include:
All food products are wheat, corn, and soy-free and contain no artificial preservatives, artificial colors, or flavors
All ingredients are non-GMO
Dog food features premium meats as the primary ingredient
All poultry is cage-free and all chicken recipes will be certified by the Global Animal Partnership (GAP) by 2024
They source ranch-raised beef and Marine Stewardship Council-certified fish
Certified-organic and fair-trade quinoa sourced from hundreds of family farmers who use regenerative agriculture practices as part of a cooperative in Bolivia
Quality Assurance Standards
The Honest Kitchen's quality assurance practices are also top-notch. All of their suppliers are regularly audited by a food safety expert. An independent third-party laboratory tests every batch of pet food products to ensure that they're free of any contaminants and meet other safety and quality standards. And the company routinely analyzes its formulas to make sure they satisfy the correct nutritional needs of dogs and cats.
The Honest Kitchen Dog Food Reviews
The Honest Kitchen offers dehydrated dog food, kibble (called clusters), wet food, and a base mix, all of which are available in several grain-free and grain-inclusive recipes.
Honest Kitchen Dehydrated Dog Food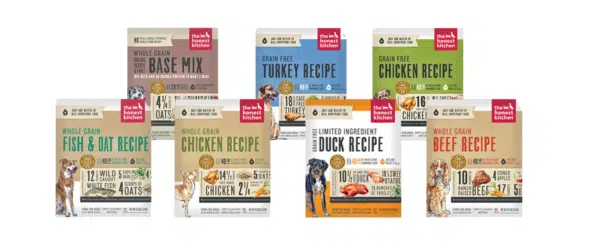 The Honest Kitchen's dehydrated dog food is this brand's most popular line and is available in an assortment of formulas for multiple dietary needs. You simply add warm water, wait three minutes, and your pup has a nutritious, delicious alternative to plain old kibble. Real meat is the first ingredient in all recipes, which also includes whole fruits and veggies and essential vitamins and minerals. All are also fortified with taurine for heart, eye, and immune health, among other benefits.
Many recipes are suitable for all life stages, meaning that they meet the AAFCO nutritional guidelines for puppies, adults, and pregnant/nursing dogs. They also offer limited-ingredient dehydrated recipes that contain only six whole foods, a great option for dogs with food sensitivities. This food rehydrates to 4x its weight (so a 7-pound box will make 28 pounds of fresh food).
Dehydrated dog food comes in several grain-free and grain-inclusive formulas, with proteins such as beef, chicken, turkey, fish, and duck. While a majority of customer reviews are positive, several say their pups don't care for these meals.
Our Personal Experience With The Honest Kitchen Dehydrated Dog Food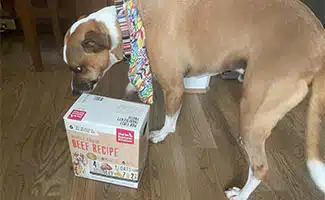 "We use The Honest Kitchen as a topper for kibble when we are traveling. Since it is dehydrated, it is lightweight and doesn't leak or require refrigeration, making it a perfect option for road trips. Plus, our dogs love it, and it smells like oatmeal, reminiscent of my favorite childhood breakfasts. It is also shelf stable for a lengthy amount of time."

– Michelle S., Canine Journal
Price
The Honest Kitchen Clusters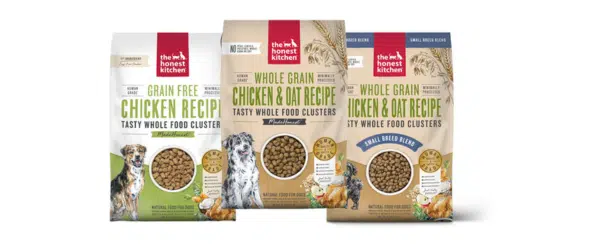 These Whole Food Clusters give you all the convenience of kibble in a highly-nutritious, minimally-processed formula. The Honest Kitchen takes whole premium meats, easily digestible grains (oats, barley), fruits, and veggies and cold-presses them into bite-sized chunks. Then, they slowly roast and dehydrate them to maintain nutritional value, aroma, and flavor, giving your pup an enjoyable (and healthy) kibble diet.
In addition to essential vitamins and minerals, Honest Kitchen Clusters are fortified with such superfoods and nutrients as salmon oil, flaxseed, chia seeds, taurine, L-carnitine, and probiotics for whole-body health.
Clusters are available in grain-free and grain-inclusive puppy, adult small breed, and adult formulas, but your protein options are fairly limited to chicken, beef, and turkey. Some customers complain that the bag comes with a lot of crumbles in it, but many say their dogs love the food.
Price
Starts at: $6.99 (1-lb bag)
The Honest Kitchen Wet Food "Stews"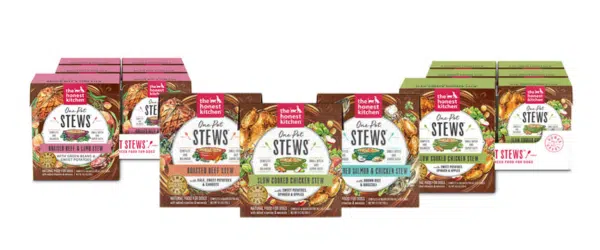 Although not quite as popular as their dehydrated and cluster dog food, The Honest Kitchen's stews and pâtés are fantastic choices for toppers or whole meals. Both types of wet food feature plenty of real meat and veggies and some also include fruit. They kettle-cook their stews in small batches in a bone broth reduction for a tasty chunky texture. And the pâté is ideal for pups who have trouble chewing or digesting chunks of food.
All stews and pâtés are labeled for all life stages and come in several grain-free and grain-inclusive recipes. With protein choices of beef, chicken, salmon & chicken, turkey, beef & lamb, and turkey & duck, you're likely to find a great match for your puppy or adult furball. Many owners of picky eaters find that their dogs approve of The Honest Kitchen's wet food offerings.
Price
The Honest Kitchen Base Mix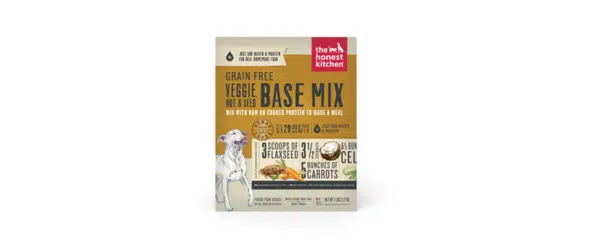 These base mixes give you the ability to add home-cooked animal proteins of your choice to a super healthy blend of dehydrated fruits, veggies, and canine-essential vitamins and minerals. They're fortified with taurine for heart, brain, eye, and muscular health, as well as flaxseed (a source of omega fatty acids).
Like The Honest Kitchen's dehydrated dog food, all you have to do is add warm water, and it rehydrates to 4x its weight. Then add your pup's favorite protein. The grain-free and grain-inclusive base mixes are a good option for adult and senior dogs (particularly those who have specific protein allergies), but none contain the ideal nutrients for puppies.
Price
Topper, Supplement & Treat Reviews
Some of The Honest Kitchen's most popular products go beyond your dog's main course. These toppers, supplements, and treats can provide a significant nutrient boost in your pup's diet.
The Honest Kitchen Bone Broth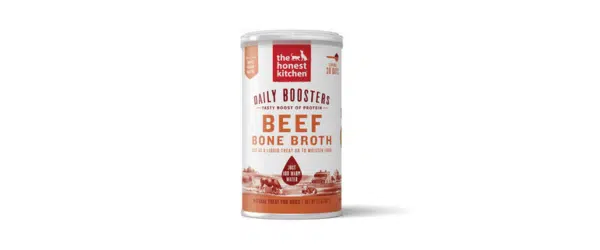 This daily booster is one of our top picks for the best bone broth for dogs and a popular choice for pup parents. With limited ingredients (bone broth, dehydrated meat, dehydrated pumpkin, dried parsley, and turmeric) and low calories, it's a great way to give your furry friend a tasty protein boost.
A shelf-stable powder, you simply add warm water and serve over your pup's food, as a stand-alone "treat," or use it to rehydrate The Honest Kitchen's dehydradated dog food. It's available in beef or turkey.
Price
Starts at: $9.99 (1.48 oz)
The Honest Kitchen Pour Overs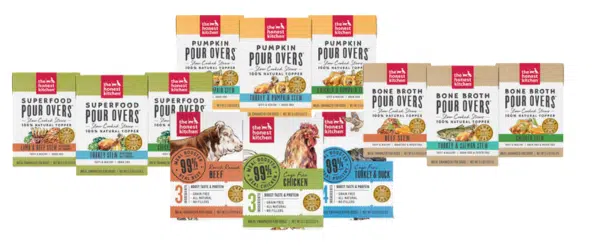 The Honest Kitchen's Superfood Pour Overs make excellent kibble toppers for picky eaters or as added nutrition for dogs of any age or size. Grain-free and low-fat, all recipes contain bone broth and real meat and are fortified with a variety of fruits and veggies, such as pumpkin, spinach, kale, broccoli, apples, and more. Your animal protein options are chicken, lamb & beef, salmon, or turkey.
They also offer specialty Pour Overs that include carefully formulated ingredients to support pups with skin allergies, hip and joint problems, heart issues, weakened immune systems, and more. Most customers say these wet toppers boost the palatability of their dogs' regular food.
Price
The Honest Kitchen Goat Milk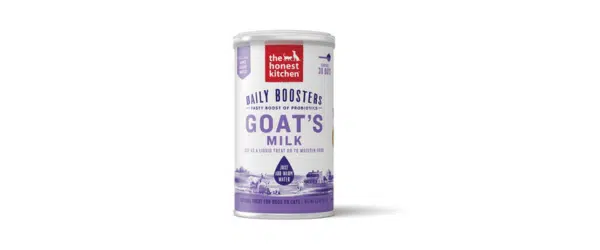 The Honest Kitchen's Goat Milk is a protein boost and probiotic supplement in one. Probiotics help keep your dog's gut healthy and ease current tummy troubles, as well as help with allergy symptoms. Just add warm water to this shelf-stable powder, and your pup gets a 1.25 billion CPU daily dose of active probiotics and digestive enzymes.
Price
The Honest Kitchen Dog Treats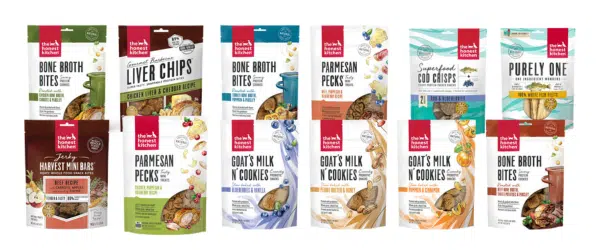 You can feel good about giving your pup these high-quality, all-natural treats and nutritious treats as opposed to many on the market that are filled with junk. And The Honest Kitchen has a huge assortment of grain-free and grain-inclusive treats to fit any dog's preference. For training treats, check out their slow-roasted soft Meaty Littles (only two calories per treat) or crunchy Parmesan Pecks.
They also offer several other low-calorie treats, such as soft and chewy Harvest Mini Bars and protein-rich Bone Broth Bites. If your pup prefers a crunchier texture, try their two-ingredient Cod Crisps or Goat's Milk N' Cookies, which are fortified with probiotics. For larger dogs or aggressive chewers, they have 100% dehydrated fish fillets and skins for a longer-lasting treat.
Price
Have There Been Any Honest Kitchen Dog Food Recalls?
A pet food recall occurs when there's a potential risk of contamination or another quality issue. A recall is either issued by the U.S. Food & Drug Administration (FDA), which governs pet food standards or voluntarily by the brand themselves. The Honest Kitchen only has one recall in its long history.
In 2013, the company voluntarily recalled five batches of products after learning that parsley from one supplier had potential salmonella contamination. There was no confirmation that any of their products were contaminated, but The Honest Kitchen took this step as a precautionary measure to ensure the safety of their doggy customers. Following this incident, the company changed its parsley supplier.
What's Our Final Verdict?
Visit The Honest Kitchen's Website
We love The Honest Kitchen because it stands out in the pet food market for its variety of 100% human-grade dog food, supplements, treats, and other specialty food products. And the company's quality standards are among the best in the industry. The Honest Kitchen has many faithful pup parent and furbaby fans, who love their products.
However, compared to some all-natural, high-quality brands that aren't entirely human-grade, The Honest Kitchen does have a few shortcomings. The most noteworthy is the limited availability of puppy formulas and options for very active adult dogs. If you're not sure The Honest Kitchen is right for your pup's needs, be sure to check out our reviews of other top human-grade dog foods and fresh meals for dogs you can have delivered right to your door.
Tagged With: Food Delivery